Recently Mashable published an article on the upward trend in Wedding live streaming in the USA. The article inspired me to dig our data and analyse how Wedding live streaming in India scores compared to the USA.The no. of weddings live streamed in India is growing at approx 200% year on year. By end of this year, we are expecting to see a 250% upwards growth since November and December is a big marriage season in North India.
Another observation is that the duration of live streaming per wedding is consistently increasing.Earlier only Muhurtham (an auspicious time when a Hindu couple is getting married). But now many prefer to live stream the Wedding reception as well as Sangeeth. This is contributing to the increase in the average live streaming time per wedding. More and more guests are watching the wedding online. On an average 32 guest watched wedding online in 2011, which increased to 46 in 2012 and 44 in 2013 till date.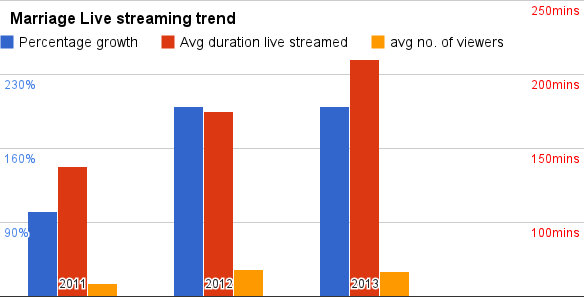 Let's see the countries from where our guests are watching the wedding in India.It is not a surprise that the distribution coincides with the countries with maximum NRI(non-resident Indian) population.
The following Pie chart shows the viewer distribution per country. We were wondering how Indian viewers occupying 75%. Because live streaming is typically for those guests who are away from India. Actually, in digging deep we unearthed an interesting trend.
Typically when a wedding is live streamed the majority of the viewers are from the foreign country. In fact, reverse of this pie chart. But we simultaneously archive the video and provide it as VOD (video on demand) later. Many times after the wedding when the couple returns back to the office.
They keep sharing the link with colleagues who couldn't attend., Play it for the visiting guests. (A videographer typically takes 2 weeks to handover the wedding DVD after editing). Some couple had even told us that they used to watch it during their honeymoon.
These VOD playback is more from India while live video is watched more from outside.
However our viewers from US typically spend more time at watching the wedding livestreaming compared to our viewer from India. As you can see 13.8% viewers watched 22.7% of the stream, while 75.7%  viewers from India watched only 64.9% of the stream.